Health Care Information Systems Overview
Remote Connectivity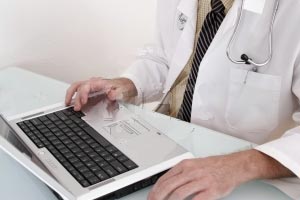 FDDI has been helping various health institutions in various capacities. We have been providing many organizations with satellite and remote site connectivity through high-speed wireless devices. These devices have a range of up to 40 miles and a data throughput capacity of up to 1.25 Gbps. A typical scenario that we encounter is a remote site that has been connected to the main office with a T1 or fractional T1 line. The two main complaints about this communication type are:
not enough capacity to each office
cost of bandwidth is too expensive
Most of our installations have a return on investment of between 6 and 14 months; with at least 4 times the performance of the leased line. We have sites that have had five nines (99.999%) of reliability for multiple years. All of the wireless devices can be configured to produce data connectivity (Ethernet), telecommunications (T1, DS-3), or a combination of both. One of our clients has 100 Mbps full-duplex radios used to view heart catheterization procedure images from their off-site catheterization lab to their various offices. The images average about 150 megabytes per study and take around three to five minutes to transfer. Instead of the cardiologists from having to drive to the lab and review the images, they can review them in their offices.
PAC Systems
FDDI has been implementing what we term "universal" PACs systems in different hospitals and clinics. We say that because the PACs system we have been implementing is able to take native file format studies from various devices - MRI, Nuclear, Ultrasound, PET, CT, Gamma, digital X-ray - Convert them into a DICOM 3.0 format; and store the images on standard PC hardware. The review and processing stations are also multi-talented in that the same processing station can process a nuclear study and then process a carotid ultrasound. The review stations can view cine images and static images of different modalities simultaneously, giving the physician unprecedented flexibility to diagnose. Each review station also supports the EMR and patient management system. The biggest benefit has been the easy of use and maintenance by hospital and clinic personnel. Because the system uses off-the-shelf components, the organization's IT staff can maintain the hardware while the imaging staff has been able to maintain the software. This has been a major reduction in support for this type of system which can run as high as $350 per hour for a technician. The total systems cost anywhere from 1/3 to ½ the cost of a system such as Siemens or GE.
Fully Integrated
FDDI has been involved in the design and implementation of state of the art EMR systems and their supporting infrastructure. We have worked with products such as Cerner Millennium, Allscripts, IDX, MYSIS, and others. We have provided HL7 interfaces into various systems in order to facilitate data integration. We have been retained to provide strategic information to organizations looking to make changes to their information systems. Our consulting experiences in many diverse industries has allowed us to take best-of-breed concepts from one industry and integrate it into another industry.