Surge Protection System: SPS-01 Series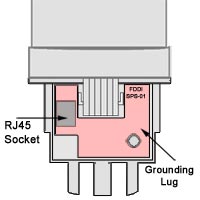 The SPS-01 series has been designed specifically to work with the Motorola Canopy© product line. Each model has been found to be operational withstanding 15,000 (15 kV) volts of electrostatic discharge (ESD). The small form factor of each model insures that additional mounting hardware is not required at the installation site. In addition, unlike most surge protection devices, the SPS-01protects on all eight CAT5 pins. Once a suitable source of Earth Ground is found the SPS-01 series will help to protect the Motorola Canopy equipment connected to it.
Two of the models are designed for outdoor installation and fit inside the Canopy case just below and around the Canopy light bars. The additional model has been designed for installation near the computer. The additional forty-five seconds to add a SPS-01 to a Canopy installation adds a complete grounding circuit to the system. It is estimated that over 90% of wireless Internet home installations are not grounded or improperly grounded. The SPS-01 series is a simple answer to this compounding problem.

Data Clamp Voltage
5 VDC
Power Clamp Voltage
36 VDC
Peak Pulse Current
1,500 J
Response Time
< 5 ns
Max Shunt Capacitance
< 0.30 pF
Protection Mode
Line to Line,
Line to Ground
Negative Votlage Protection
1,000 V
DC Lin Voltage (pin 4,5,7,8)
24 VDC
Data Line Voltage (pins 1,2,3,6)
5 VDC
Input Connector
RJ45

Contact FDDI or your Canopy reseller about availablity and pricing. The SPS-01 is available in bulk pack quanities and pricing