Reliable Systems Integration for
All Your Communication
Needs

Ceragon FibeAir

With its unmatched deployment flexibility, Ceragon's FibeAir product family continues to stand out in the industry. The FibeAir family consists of the following product families: FibeAir 1500/1528, FibeAir 1500A/1528A, FibeAir 1500I/1528I, FibeAir 1500S/1528S and FibeAir 3128. These modular products are quickly and easily deployed, offering the capacity and reliability of fiber without the cost and time constraints. Ceragon's solution gives carriers and operators the capability to build and expand networks using equipment from a single source vendor.
| | |
| --- | --- |
| | The FibeAir family offers an innovative product design that operates across multiple frequencies from 6 to 38 GHz and enables carriers and private networks to deliver high-capacity (155 to 622 Mbps) converged data, video and voice services over SONET/SDH, ATM and IP networks. FibeAir products offer multiple interfaces and modulation schemes and comply with all major global standards. |
| | |
| --- | --- |
| FibeAir 1500A/1528A is uniquely designed with a built-in ADM (Add-Drop Multiplexer). This design is a one-box solution for 155 Mbps multiplexed data transmission, capable of integration with other vendor equipment using the SDH data transfer protocol. FibeAir 1500A/1528A offers a fiber-like quality, OC-3/STM-1 wireless ring operating in 6, 7, 8, 11, 13, 15, 18, 23, 26, 28, 32 and 38 GHz frequency bands. The built-in ADM complies with SDH standards, and is designed to integrate in any network using existing ADMs. The system supports path protection functionality, and implements In-Band Management for seamless integration in the network. | |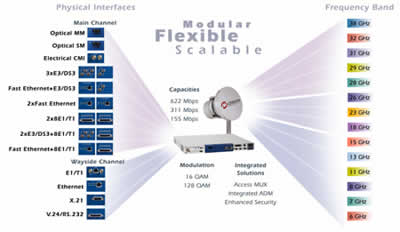 The FibeAir 1500A/1528A system consists of an In-Door-Unit (IDU), an Out-Door Unit (ODU), a high performance antenna, and management software. FibeAir's internal SNMP agent allows for easy integration with standard network management systems. CeraViewTM, Ceragon's SNMP based GUI element manager, and PolyViewTM, Ceragon's open interface network management software, run on Windows 95/98/2000/NT and over HP OpenView platforms (Windows or Unix).