AirPair 50 and AirPair 100
AirPair provides best-in-class, high capacity wireless connections for synchronous and IP based applications. AirPair delivers a 100BaseTx user network interface to provide committed full duplex data rates of 50 Mbps and 100 Mbps over a range of distances.
The AirPair accommodates a variety of International licensed and unlicensed frequency plans including the new 24 GHz unlicensed spectrum. The AirPair 24 GHz product provides near interference free operation. The product was designed to overcome the uncertainty of service with the congested 2.4 GHz ISM and 5.8 GHz U-NII bands, while offering the benefits of license exempt rapid deployment.
AirPair Split


The AirPair Indoor Unit (IDU) is designed for a split indoor/outdoor mounting, with simple installation. The IDU provides the user with an on the ground craft interface and LED indicators to aid system diagnostics. In the IDU configuration, the radio and antenna will be mounted outdoors, and the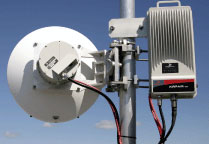 modem is mounted indoors. The modem and radio communicate with one another via a low-loss coaxial cable such as LMR-900. The system automatically detects cable loss and adjusts power levels accordingly.
The AirPair Outdoor Unit (ODU) is designed in a compact, weatherproof all-outdoor packaging that requires no indoor space. The ODU is very easy to install, with all the equipment in one location, in an easy to carry package. In the ODU configuration, the radio, antenna and modem are all mounted outdoors.