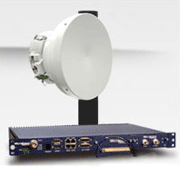 Microwave Networks
Proteus Family
Specifically designed to offer high capacity transport of SONET/SDH and IP data, the Pinnacle line of microwave radios is perfect for wireless mobile infrastructures, broadband corporate LAN and Internet networks, as well as high-capacity backhaul of LMDS and point-to-multipoint systems. As part of Microwave Networks' Integrated Microwave Solutions family of products, Pinnacle offers a compelling combination of high capacity data and narrow bandwidth within the higher frequency bands. The ability to increase capacity to 155 mbps or 311 Mbps within existing 28 MHz channels is a significant factor during network overbuilds or the transition from 2G to 3G.
Proteus AMT

High Freq PDH Radios at 7, 8, 11, 13, 15, 18, 23, 26, & 38 GHz
International data rates of 2 E1 to 32 E1 or 2 E3,
Full 100 Mbps Fast Ethernet version
Uses half the traditional bandwidth or allows double the capacity within the typical bandwidth
Applications include:

PCS/PCN, Cellular networks
Wireless Local Loop
Last Mile Network Access
LMDS backhaul

CM Series

Long Haul radios at 6, 7, and 11 GHz
North American data rates from 4 DS1 up to OC-3
International data rates from 4 E1 up to STM-1
Full 100 Mbps Fast Ethernet version
High reliability with non-protected, 1 + 1 protected, and space or frequency diversity
Easy, in-field data rate upgrades
The Pinnacle's small size and ease of installation allows operators and system managers to quickly deploy their network and begin to generate revenue. The wide variety of customer interfaces are available as plug-in modules that can easily be changed in the field to meet changing network topography.

In addition to the standard Plesiochronous Digital Hierarchy (PDH) technology, all of MNI's radio platforms offer customer interfaces for IP and data transport. This unique combination offers network operators the ability to leverage their current network infrastructure and provide an efficient evolution to their next generation networks. As voice and data traffic grow within the networks, PDH systems can be supplemented with Synchronous Digital Hierarchy (SDH) platforms to carry data as high as 311 Mbps.