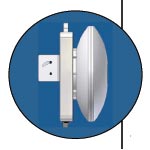 SnapLink Products
SnapLink Radios are ideal for IP backhaul and network extensions. The low latency provides a reliable channel for data, VOIP, and video transport. This cost effective radio is well applied to corporate, private, and government networks.
The SnapLink product family is a simple alternative for IP radio communication. Operating on the 802.11 protocol these radios offer 54Mbps at shorter distances and 11Mbps at maximum range. However, since the SnapLink products operate outside of the normal 802.11x frequency range, frequency interference becomes irrelevant.
Available Frequencies


SnapLink Radios are available in the US at the unlicensed and licensed 24GHz frequencies. They are also available in the licensed 38/39GHz frequencies. These particular frequencies are very seldom used and propose very little interference possibilities.

| | |
| --- | --- |
| Unlicensed Freqs | 24 GHz |
| Licensed Frequencies | 24 GHz & 38/39 GHz |
| Modulation | DQPSK |
| Spread Spectrum | OFDM / Direct Sequence |
| Transmit Power | 5 dBM nominal |
| Antenna Gain | 34.5 dBmi |

Range/Speed
up to 8km (5miles) 11Mbps
up to 5km (3miles) 54Mbps
Weight
approx 2kg (5lbs)
Power Usage
10 watts nominal
Dimensions
(excluding antenna)

304mm x 304 mm x 51mm
12" x 12" x 2"

Antenna Type
12" Reflector
Operating Temp
-35°C to + 55° C

Dealer Pricing Available for All Models

Simple One-Piece Design
With its simple one piece design and form factor, the SnapLink products are a 'snap' to install. The radio units and antennas are combined into a single enclosure. The mounting system allows the radio to attach to a pole from 2" to 4" in diameter. In addition, the SnapLink is powered by Power Over Ethernet (POE) thus requiring only one cable to operate the unit.